Appointment of a new Headteacher for Summer Term 2018
Appointment of a new Headteacher for Summer Term 2018
21 March 2018 (by admin)
Welcome to Mr Matthew Edwards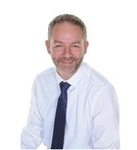 Following Andrew Kershaw's announcement of his impending retirement, the Governing Body wishes to announce that it acted swiftly to secure a new headteacher for the school, who will take up the appointment in time for the last full term of this academic year following Easter.
The governors were delighted by the response to their advertisement which produced a substantial field of high calibre applications that included an equal mix of both established heads and highly qualified and experienced deputy heads.
The final short‐listed candidates were formally interviewed by a panel of school governors, supported by advisors from the Birmingham Diocese and the local authority. They were also put through a rigorous series of school based tasks which also included School Council interviews. It was an exhaustive process that certainly verified the candidates' stamina as well as their calibre.
On behalf of governors, it gives me great pleasure to formally announce that Matthew Edwards, presently the Deputy Head of The John Bamford Primary School in Rugeley Staffordshire, will be our new headteacher and officially starts with us on the 12th April. Mr Edwards was the unanimous choice of the five governors that made up the selection panel and their decision also had the full support and backing of the Diocesan and local authority observers.
Mr Edwards was thrilled to accept this appointment and to continue the outstanding progress made by the school under Mr Kershaw's fourteen year leadership.
Mr Edwards is a human biology and sports graduate from Wolverhampton University, has a Masters Certificate in Education Leadership and Management and has also completed the National Professional Qualification for Headship. He previously taught at an Ofsted Outstanding school in Lichfield, securing rapid promotion to move into a leadership position at The John Bamford School. He has also benefited from the experience of a successful secondment as the interim headteacher to another Staffordshire school that was in Requires Improvement.
Mr Edwards is married with three young children and lives locally in Tamworth. Indeed some people will already know of him from his previous decade long career working within the family's horticultural business in Nether Whitacre, prior to taking up a career in education.
On behalf of the governors I would like to thank the children and staff who fully supported the selection process. The children were, as always, a credit to the school and to you. The advisors involved told me how impressed they were with the behaviour of the children throughout the day and the part they play in making Coleshill CE Primary such a wonderful school.
I hope you will join me in congratulating Matt on his appointment, give him a warm welcome to our school and fully support him as he leads the school into a new and exciting future.
With best wishes,
Carl Hindle
Chair of Governors