The Great Coleshill Bake Off!
The Great Coleshill Bake Off!
15 February 2018 (by admin)
Tasty treats help with school fundraising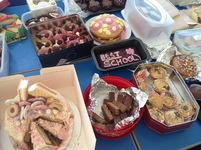 A great big thank you to everyone who took part in our bring and buy cake sale, which raised over £600 for school funds. Over the week children in each year group had the chance to showcase their baking skills, with people from around the school buying the tasty treats to help raise money for the school. The school council enjoyed judging the cakes and took some round to Orchard Blythe care home next door to the school to share with our neighbours.