All absences should be reported to school as soon as possible.
Where the illness is vomiting and/or diarrhoea, please keep your child off school for 48 hours after the last symptoms.
Coronavirus (COVID-19)
As children are now mixing with one another in larger numbers, we expect the prevalence of seasonal colds will increase. Following a change in DfE guidance, BDMAT are removing 'cold-like symptoms' from the symptoms to stay off school unless parents are advised to do so by their GP/111.
If your child has the following symptoms, please inform school (by calling 01675 643672) and keep your child off:
a new, continuous cough

a high temperature (over 37.9 degrees), and/

or

a loss of taste/smell
If your child develops COVID-19 symptoms while at school, we will send them home with a letter (see below) outlining what you need to do next and when your child can return to school. Please note, when we send a symptomatic child home, all siblings will also be sent home
and are required to isolate until a negative test result is received
.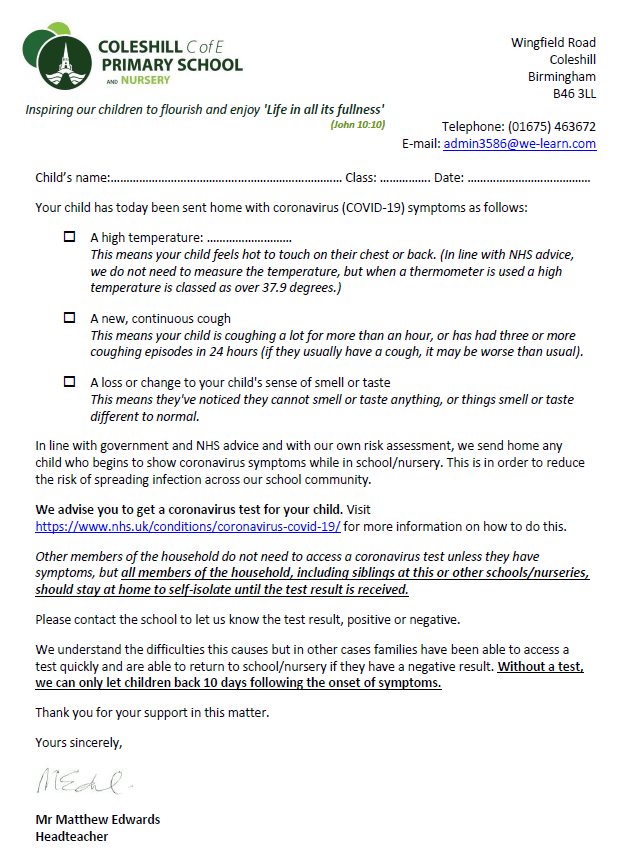 P
eople should only access a COVID-19 test if they are showing COVID-19 symptoms. Please inform the school immediately if you receive a positive test result so that the Health Protection Team can assess the situation and advise the school community. Government guidelines regarding isolation should be strictly followed.