Maths art day
Maths art day
22 December 2017 (by admin)
Exploring maths through art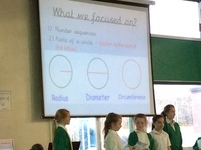 On Wednesday 20th of December the whole of Coleshill C of E Primary school enjoyed an exciting day exploring different artists and the maths their art contained.
Some great mathematical links and art work was created including Klee angle work, Kandinsky vertical and horizontal lines and Mondrian circles!
We then created a Coleshill art gallery during our assembly and showed our work.