Garden revamp
Garden revamp
19 October 2017 (by admin)
Local firm help improve our garden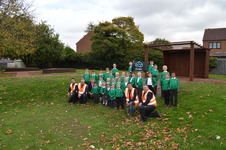 A big thank you to Arconic for their generous help in refurbishing our school garden!
A team from the local manufacturer based in Kitts Green spent a week this autumn hard at work to revamp a peaceful corner of the school grounds.
More used to working with metal and solving complex engineering challenges that transform the way we fly, drive, build and power, the team from Arconic have constructed a new wooden pergola, raised beds and footpath at the top of the school playing field.
The team will return in the spring to help the children with the planting.
Head teacher Mr Andrew Kershaw said, "We are very lucky to have such a large outside space for our growing school, and we are so pleased that Arconic have been able to donate their time and resources as part of their community outreach programme to help us make the most of it."
Gez Thacker from Arconic said, "We like to create links with our local communities and know that the refurbishment of this space will give the children further access to a range of learning experiences outside the classroom."