Maths mission
Have you noticed we're raising the profile of maths?!

Come into school and you'll see it in the classrooms and corridors - and even in the playground!

A key priority for the school is to continue to ensure high attainment in mathematics, starting at the Foundation Stage, through to Key Stage 1 and 2. We set ourselves high targets and expect the quality of all pupils' learning and progress to be consistently good, from whatever their starting point.

Staff and pupils are working hard not only during their numeracy lessons but are also applying their number skills in other subjects too - ask your child's teacher to show you. Teachers and Teaching Assistants support children at all levels of ability within a rich and varied curriculum, and of course your support at home plays a big part.

Read on for more information about our various maths initiatives, or click here for our Resources page.

Maths Passport



The Maths Passport provides a guide for parents and carers as to what maths facts children can work on at home.





Practising their mental recall of basic facts will improve their confidence when doing numeracy work at school.



Click here for the Maths Passport.



Maths Detectives

We have a trail of questions around the school and playgrounds to get children noticing maths and thinking about how maths relates to everyday activities.

Children can answer questions independently, and classes are also taken round the trail by their teachers

Need more help?

The Children's Centre based at school often run numeracy sessions and courses for adults. We will advertise these in the Thursday newsletter. Check out our Resources page too for more information about how we teach maths.

Kinetic Theatre



We regularly bring in the Kinetic Theatre Company to put on an educating and entertaining show for the children. March's show, "Mummy Mia", focused on numbers, digits, odd and even, addition, partitioning, angles, pictograms, sums, measurements and scales as well as degrees, rotations, compass points, graphs and negative numbers.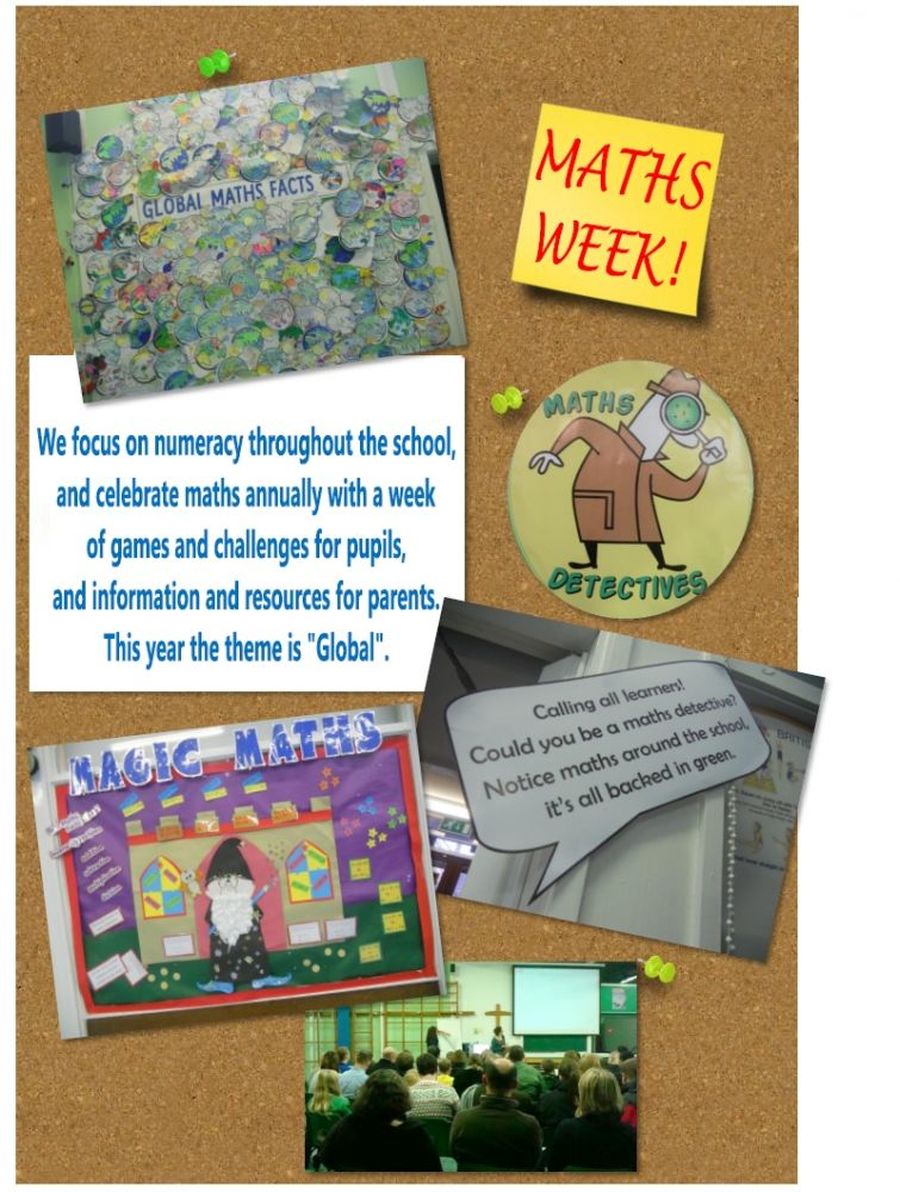 Maths Week

Our annual Maths Week is a fun way for children to explore maths in the world around them, and provides opportunities for parents and carers to get information on how children are taught in order to be able to support them at home.

We had a great turnout at our last maths meeting for parents at the end of 2012, where we discussed the maths methods used in school, provided handouts and took orders for a wide range of maths resources.

Maths Club

One of our key ongoing aims is to ensure greater challenge for our more able pupils by differentiating Learning Intentions and providing additional learning opportunities such as Maths Club in Years 5 and 6.